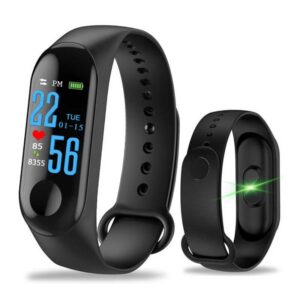 Highlights:
roduct Details
Measure your daily activity with this device that helps you to set and maintain aerobic fitness goals. Vibration alerts let you receive call, text and e-mail notifications from your phone. The Smart Band is Compatible with Bluetooth 4.0 android and iOS system! Just sync your device via Bluetooth to the health app on your mobile handset, and you are good to go.
SPECIFICATIONS
General Features
Built-in pedometer keeps track of your daily activities and calculates calorie burned
Heart rate monitor helps you exercise in your target heart rate zone
Sleep monitor records and analyzes your sleep patterns
Silent alarm clock vibrates to wake you up without disturbing people around you
Call reminder with caller number display
Touch button for an easy view from the screen
IP67 waterproof construction, good for any occasions
Soft TPU band, comfortable to wear
Built-in battery for up to 5 days of standby time
Support USB charging
Highlights:
Description: Features:
Mini adapter Plug and play
Wireless transmission, the longest sensing distance up to 10 meters
Portable and weight light, very convenient to carry and store
Power switch for save power
With 6 Keys, including Scroll Wheel, Page Forward and Page Backward buttons for easy Internet Surfing
Up to 10 meters of operating distance
Power Supply: 2 x AAA Battery(Not included)
Mouse type: Wireless Optical Mouse
Interface: USB
Size:108*75*38 mm
Package Includes:
1 x Wireless Portable Optical Mouse
1 x USB receiver
Highlights:
Pair of grip handles for toning, sculpting, shaping and defining upper body
Encourages more natural arm and shoulder movement than traditional pushups
Helps strengthen and tone chest, arms, back, shoulders, abs and other muscles
Reduces strain on joints, handles sit flat on floor or against wall for versatility
Put a new twist on push-ups with the Pushup Pro.
Push up Pro is portable and works on any floor surface, great for home, office and travel. Simply place each individual Push up Pro handle on the floor and grip them. Your arms will fully extend properly as you push yourself upwards, and outwards as you come down. As a result, your arms will get the full workout that only Pushup Pro can provide.
Pushup Pro's rotating grips allows arms and shoulders to move naturally. More muscles are targeted effectively while reducing strain on wrist and joints.
Pushup Pro strengthens and tones your chest, shoulders, arms, back and abs.